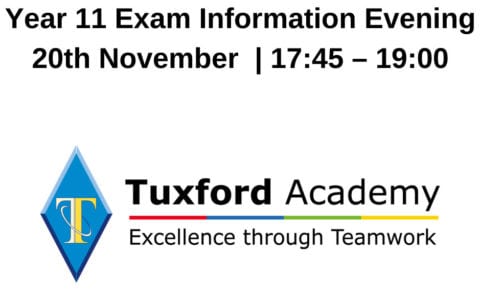 You are invited to an information evening about the forthcoming GCSE exams for Year 11 students. With the changes to GCSEs, the average student will sit 25 different exams over the course of a maximum of seven weeks, making preparation the absolute key to success. On the evening, there will be a short presentation, followed by a range of different stalls where you can get information about:
different revision strategies
the new 9-1 GCSE structure
setting up the perfect revision space
how the memory works
and many more!
The evening is an opportunity to discuss the challenges facing students in their exam year and how parents/carers can help them to prepare for their exams in the summer.
We encourage all students and their parents/carers to attend the evening and are grateful for the ongoing support to students at this important stage of their GCSE year. In order for us to arrange adequate information packs and refreshments please email parents@tuxford-ac.org.uk (by Friday 15th November) to confirm your attendance, including the following information:
Your name
Your child's name and tutor group
The number of you attending
Please do not hesitate to contact us if you have any queries on 01777 870001