Our 'Diverse Planet' is the theme of this year's British Science Week (6-15 March) – a time to celebrate the very best that the country has to offer. Organisers behind the campaign are hoping to smash some of the stereotypes that exist about scientists working in Britain today.
When you think of a scientist, do you imagine a grey-haired man wearing a lab coat akin to Albert Einstein? If so, you've probably conjured up the image that most of us do – Katherine Mathieson, Chief Executive of the British Science Association is keen to change this. She explains: 'We're aiming to highlight the diversity of the people who work in science, in both industry and academia, and the diverse range of roles within – and paths into – the STEM sector.'
Women in science
The themed week comes hot on the heels of International Women's Day (Sunday 8 March) which is driving change for women all over the world.  Last year in Britain the number of women working in science, technology, engineering and maths (STEM) reached one million. That represents 24% of the total STEM workforce – an increase of 350,000 on 2018's figures – but there is still work to do. The campaign for women into science and engineering (WISE) wants to see 30% of STEM roles filled by women within the next ten years.
So how do we achieve this? How do we encourage young women to pursue a career in science? Well the answer may begin within our academies with inspirational science lessons, female role models and inclusive extra-curricular clubs.
Classroom to boardroom
Alice Driscoll studied at The Holgate Academy and is now back in the very same classrooms inspiring the next generation of scientists. An A Level physics teacher, she remembers what first appealed to her about science at secondary school: 'Maths and science were my favourite subjects, mostly because the teachers were brilliant. For me, science was a way of practically applying maths in a real-life situation – I love the way it explains everything from the smallest nucleus to the entirety of the universe.'
Female science teachers outnumber men by almost 3:1 at Diverse Academies and these role models are having a positive impact on student numbers. This year 31% of our female   A Level students have chosen to study at least one of the three sciences – an increase of 3.5% on the previous academic year. Take-up of science in the classroom directly links to female representation in the boardroom, so it is encouraging to see progress happening but it's not the case across all STEM roles.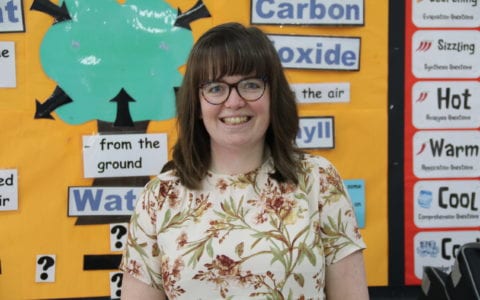 Why is tech flatlining?
In 2019 just 16.4% of professionals working in ICT were female, which represents an increase of just 56,525 in ten years. But according to Sabrina Castiglione from the WISE campaign, the problem isn't with tech companies but with the supply of candidates. To address the skills gap many schools have added coding to their curriculum starting with their youngest pupils at key stage one. Parents and carers can help at home by talking to their children about what they have learnt. Remember that coding is about providing a computer with instructions – you can practice this very simply in everyday life from following a recipe to learning a dance routine.
Now is a great opportunity for you to talk to your children about science and technology, building on what they are already doing in academies for British Science Week.