On Monday Tuxford Academy was fortunate enough to have an informative and inspiring visit from Amy Forbes, one the outreach officers from Magdalen College at the University of Oxford.
120 year 10 and 11 students were invited to attend a workshop which focused on applying to Oxford, Cambridge and the Russell Group universities. As well as a session on 'Why University?' which examined the benefits of university and set out to bust some of the myths and misconceptions commonly expressed about higher education.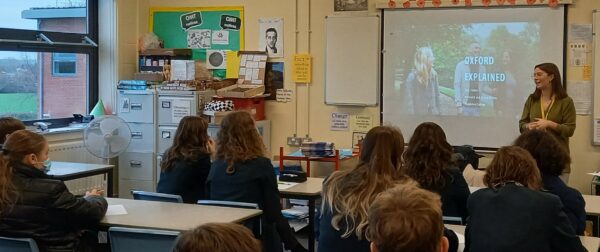 The students gained first-hand experience and insight into some of the academic pathways available after their time at Tuxford.
Here is some of the feedback from students:
 'I learnt that Oxford can be for anyone if you're passionate about your subject'
'it seems less daunting' and 'I'm simply more enthusiastic about it.'
It was great to see our students so actively engaged, Amy pitched the sessions perfectly and really drove home the message that 'The sky's the limit'.