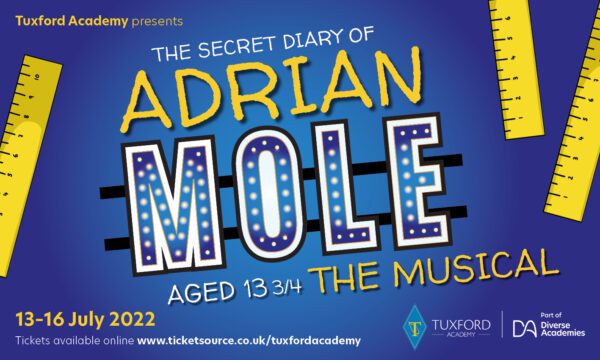 Wednesday 13 – Saturday 16 July 2022
Based on the classic bestselling novel by Sue Town​send, this critically acclaimed West End musical brings Britain's most popular lovesick teenager's story to life for a ​new generation of theatregoers.
Life is pretty hard when you're a misunderstood spotty teenager living in a cul-de-sac in 80s Leicester, especially when you're a self-proclaimed intellectual. Adrian's life simply can't get any worse – until new girl Pandora joins his class and captures his heart. Adrian must try and win her love, whilst dealing with dysfunctional parents, the school bully and puberty! All this whilst leading a revolution at school!
This funny and heart-warming tale of teenage angst and unrequited love features one of the most endearing comedy characters of all time. Packed full of great songs, this hilarious story is the feel-good treat that we all need right now.
Book now: www.ticketsource.co.uk/tuxfordacademy