On 8 May 1945, a significant milestone in World War II was achieved as the Allies celebrated the end of the war in Europe, known as VE Day (Victory in Europe Day). Prime Minister Winston Churchill addressed the nation on this date following the German's surrender, beginning his speech by saying: 'My dear friends, this is your hour. This is not victory of a party or of any class. It's a victory of the great British nation as a whole.' Days of celebrations followed across the UK with families and communities coming together as one.
Today we celebrate the 75th anniversary of VE Day, and across our academies children have been learning throughout this week about why this date in our history is so significant. They have also joined in activities to commemorate the occasion.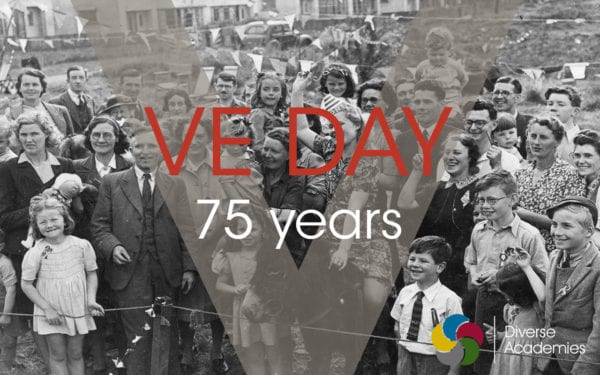 Despite the current lockdown, there are a number of celebrations taking place nationally, which you can join in safely from home:
Two-minute silence at 11am to reflect on the sacrifice of those who fought in the war
At 3pm, Britons are being invited to take to their doorsteps to raise a glass, cheer and clap during The Nation's Toast to the Heroes of World War Two
Street parties (with appropriate social distancing) are being planned in some areas with traditional baked good and drinks
Decorate your home with Union Jack bunting (there are loads of great 'how-to' guides online to create your own, including https://ve-vjday75.gov.uk/toolkit/)
We hope that all our children, their families and our staff enjoy the celebrations, however you can safely do so, and remember those who gave their lives to support the freedoms we enjoy today.
We'd love to see what you've been up to, so share your pictures with us at communications@diverseacademies.org.uk (letting us know which academy you're from!)